Home Page
Welcome to Special Education
Mrs. Erika Clawson
Special Day Class teacher

My name is Erika Clawson and you can find me working with my wonderful students in Room B-1 at Seven Hills Middle School. I have one instructional assistant, Mrs. Redmond, who is an invaluable resource to me, the students, and the program. We work with students who have Individualized Instructional Plans (IEPs) in grades five through eight. I teach core curriculum classes: Language Arts, Math, History, and Science. I also support Special Education students in their general education coursework. Please drop by to visit any time.
Homework:
Due to the individualized, specialized, educational program each Special Day Class student is involved in, homework varies from student to student. All students will have Math homework assigned daily, Monday through Thursday. (No homework on Fridays.) All students are also expected to read for 30 minutes each day. Please check your student's planner daily for specific assignments and for any other assignments they may have.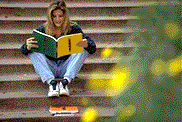 As always, please feel free to contact me at any time. You can drop by the classroom before or after school, call me at 265-1840, ext. 8140, or email me at eclawson@ncsd.k12.ca.us. My door is always open!!